Zalgen is committed to collaborate with our VHFC colleagues and others to advance the knowledge base of Viral Hemorrhagic Fevers and other viral diseases. Read the latest on how our work is making a difference.
Borrega R, Nelson DSK, Koval AP, et. al. (2021) Cross-Reactive Antibodies to SARS-CoV-2 and MERS-CoV in Pre-COVID-19 Blood Samples from Sierra Leoneans.Viruses 2021, 13, 2325Many countries in sub-Saharan Africa have experienced lower COVID-19 caseloads and fewer deaths than countries in other regions worldwide. Under-reporting of cases and a younger population could partly account for these differences, but pre-existing immunity to coronaviruses is another potential factor. Blood samples from Sierra Leonean Lassa fever and Ebola survivors and their contacts collected before the first reported COVID-19 cases were assessed for the presence of antibodies binding to proteins of coronaviruses that infect humans. Results were compared to COVID-19 subjects and healthy blood donors from the United States. Prior to the pandemic, Sierra Leoneans had more frequent exposures than Americans to coronaviruses with epitopes that cross-react with severe acute respiratory syndrome coronavirus-2 (SARS-CoV-2), SARS-CoV, and Middle Eastern respiratory syndrome coronavirus (MERS-CoV). The percentage of Sierra Leoneans with antibodies reacting to seasonal coronaviruses was also higher than for American blood donors. Approximately a quarter of Sierra Leonian pre-pandemic blood samples had neutralizing antibodies against SARS-CoV-2 pseudovirus, while about a third neutralized MERS-CoV pseudovirus. Prior exposures to coronaviruses that induce cross-protective immunity may contribute to reduced COVID-19 cases and deaths in Sierra Leone. This study utilized Zalgen Labs coronavirus reagents including ReSARS CoV-2 N-Protein and S-RBD ELISA RUO kits to measure specific IgG antibodies.
Drouin AC, Theberge MW, Liu SY, et.al. (2021) Successful Clearance of 300 Day SARS-CoV-2 Infection in a Subject with B-Cell Depletion Associated Prolonged (B-DEAP) COVID by REGEN-COV Anti-Spike Monoclonal Antibody Cocktail. Viruses 2021, 13, 1202. A 59-year-old male with follicular lymphoma treated by anti-CD20-mediated B-cell depletion and ablative chemotherapy was hospitalized with a COVID-19 infection. The failure of all therapeutic options allowed infection to persist nearly 300 days with active accumulation of SARS-CoV-2 virus mutations. As a rescue therapy, an infusion of REGEN-COV (10933 and 10987) anti-spike monoclonal antibodies was performed 270 days from initial diagnosis. Due to partial clearance after the first dose (2.4 g), a consolidation dose (8 g) was infused six weeks later. Complete virus clearance could then be observed over the following month, after he was vaccinated with the Pfizer-BioNTech anti-COVID-19 vaccination. The successful management of this patient required prolonged enhanced quarantine, monitoring of virus mutations, pioneering clinical decisions based upon close consultation, and the coordination of multidisciplinary experts in virology, immunology, pharmacology, input from REGN, the FDA, the IRB, the health care team, the patient, and the patient's family. Current decisions to take revolve around patient's follicular lymphoma management, and monitoring for virus clearance persistence beyond disappearance of REGEN-COV monoclonal antibodies after anti-SARS-CoV-2 vaccination. Overall, specific guidelines for similar cases should be established. Study utilized Zalgen Labs ReSARS CoV-2 N-Protein and S-RBD ELISA RUO kits to measure specific IgG antibodies.
Shaffer JG, Grant DS, Schieffelin JS, et.al. (2021) Space-Time Trends in Lassa Fever in Sierra Leone by ELISA Serostatus, 2012–2019.Microorganisms. 2021 Mar 12;9(3):586. Kenema Government Hospital (KGH) maintains one of only a few Lassa Fever (LF) isolation facilities in the world with year-round diagnostic testing. The study focused on space-time trends for LF occurring in Sierra Leone between 2012 and 2019 to provide a current account of LF in the wake of the 2014–2016 Ebola epidemic. Data were analyzed for 3277 suspected LF cases and classified as acute, recent, and non-LF or prior LF exposure using Zalgen Labs ReLASV ELISA kits. Presentation rates for acute, recent, and non-LF or prior LF exposure were 6.0% (195/3277), 25.6% (838/3277), and 68.4% (2244/3277), respectively. Among 2051 non-LF or prior LF exposures, 33.2% (682/2051) tested positive for convalescent LF exposure. The overall LF case- fatality rate (CFR) was 78.5% (106/135). The findings suggest that LF remains endemic in Sierra Leone and that caseloads are likely to resume at levels observed prior to the Ebola epidemic. The results provide insight on the current epidemiological profile of LF in Sierra Leone to facilitate LF vaccine studies and accentuate the need for LF cohort studies and continued advancements in LF diagnostics.
Heinrich ML, Boisen ML, Nelson DKS, et.al. Antibodies from Sierra Leonean and Nigerian Lassa fever survivors cross‑react with recombinant proteins representing Lassa viruses of divergent lineages. Scientific Reports 10:16030 (2020). As part of CEPI 's (Coalition for Epidemic Preparedness Innovations) Lassa vaccine development program, we assessed the potential of the human immune system to mount cross-reactive and cross-protective humoral immune responses to antigens from the most prevalent LASV lineages (lineages II and III in Nigeria and lineage IV in Sierra Leone). IgG and IgM present in the blood of Lassa fever survivors from Nigeria or Sierra Leone exhibited substantial cross-reactivity for binding to LASV nucleoprotein and two engineered (linked and prefusion) versions of the glycoproteins (GP) of lineages II–IV. These studies provide guidance for comparison of humoral immunity to LASV of distinct lineages following natural infection or immunization.
Cross RW, Agans KN, Prasad AN, et.al. Intranasal exposure of African green monkeys to SARS-CoV-2 results in acute phase pneumonia with shedding and lung injury still present in the early convalescence phase. Virology Journal 17: 125 (2020) Follow up to recently reported development of the first African green monkey (AGM) model for COVID-19 based on a combined liquid intranasal (i.n.) and intratracheal (i.t.) exposure to severe acute respiratory syndrome coronavirus 2 (SARS-CoV-2). Assessment of an i.n. particle only route of exposure using the LMA mucosal atomization device (MAD). Findings are consistent with human COVID-19 further demonstrating that the AGM faithfully reproduces the human condition. Study utilized Zalgen Labs ReSARS CoV-2 Nucleoprotein ELISA kits to measure specific IgG antibodies in AGM sera.
Barnes KG, Lachenauer AE, Nitido A, et.al. Deployable CRISPR-Cas13a diagnostic tools to detect and report Ebola and Lassa virus cases in real-time. Nature Communications 11: 4131 (2020). Development of a CRISPR-Cas13a-based (SHERLOCK) diagnostics targeting Ebola virus (EBOV) and Lassa virus (LASV), with both fluorescent and lateral flow readouts. Assessment on laboratory and clinical samples assay sensitivity and capacity to handle virus-specific diagnostic challenges, and safety testing to demonstrate the efficacy of the HUDSON protocol in heat-inactivating VHF viruses before SHERLOCK testing, eliminating the need for an extraction. Development of a user-friendly protocol and mobile application (HandLens) to report results, facilitating SHERLOCK's use in endemic regions.
Boisen, M.L., Uyigue, E., Aiyepada, J. et al. Field evaluation of a Pan-Lassa rapid diagnostic test during the 2018 Nigerian Lassa fever outbreak. Sci Rep 10, 8724 (2020). Evaluation of the Zalgen ReLASV Pan-Lassa Antigen Rapid Test, a point-of-care, in vitro diagnostic test that utilizes a mixture of polyclonal antibodies raised against recombinant nucleoproteins of representative strains from the three most prevalent LASV lineages (II, III and IV). The performance of the Pan-Lassa RDT was compared to available quantitative PCR (qPCR) assays during the 2018 LF outbreak in Nigeria. For patients with acute LF (RDT positive, IgG/IgM negative) during initial screening, RDT performance was 83.3% sensitivity and 92.8% specificity when compared to composite results of two qPCR assays. 100% of samples that gave Ct values below 22 on both qPCR assays were positive on the Pan-Lassa RDT. There were significantly elevated case fatality rates and elevated liver transaminase levels in subjects whose samples were RDT positive compared to RDT negative.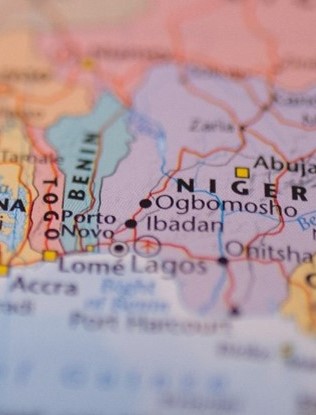 News
Article in Proceedings of the National Academy of Sciences (PNAS) reports data from the latest study at the University of Texas Medical Branch…
August 18, 2023